Destination: Tobago

Cost Per Person: Based on 2 sharing: £1330.00
Travel Dates: 13/09/2019 - 24/09/2019
Board Type: All Inclusive
What's Included: Airport Transfers, Island Tour
Holiday Description
The Tobago Fest is an undiscovered Gem that has been brought back by a group of creative organizers. A flight from Gatwick to Tobago in September will take you to a Street party experience that offers the unique opportunity to get involved at the local level. Packaged with 10 nights at a Four Star Hotel that is within easy reach of the airport, the beach and the action, if you are looking for a new experience for great value then this is the trip for you.
Carnival Description
Enjoyed Carnival in Trinidad and Tobago so much that you can't wait to come again next year?  Well, here's some good news - you don't have to wait until then!  The beautiful island of Tobago celebrates a mini-Carnival in September.
Tobago Fest', as this mini-Carnival is known, with its new-style 'mas', is just what the name suggests - a smaller version of Trinidad Carnival. While Trinidad's 'Greatest Show on Earth' takes place religiously every year on the Monday and Tuesday prior to Ash Wednesday, 'Tobago Fest' offers masqueraders the opportunity to enjoy the revelry at another time of the year - with a distinctly Tobagonian flavor the second time around.
Popular masquerade bands from Trinidad travel across to the sister-isle to participate in both the main event as well as the host of other activities on the agenda - including 'night mas' (which gives you a chance to 'jump up' in the cool evening breeze under the starlit sky), a queen and talent show, steel band competitions, calypso shows and street parties.
But the 'new' has not completely replaced the 'old'. The 'Tobago Fest' celebrations borrow strongly from the traditional celebration of Carnival - it is not uncommon to see some of these charming attractions:
Speech Bands (roving, singing bands that carry greetings, news of the day or jokes from house to house, in local dialect mixed with exaggerated Scottish or English accents)
Tobago Bands (masquerade bands dressed in gaudy, extravagant regalia depicting royalty and genteel folk)
These quaint and quirky elements have long been an integral, fun part of our cultural landscape - and have now become popular features at this mid-September celebration of life!
Flight Details 
Airport: Gatwick Airport 

Departure/Arrival Date: 13/09/2019 - 24/09/2019
Baggage Allowance: 1 checked item @23kgs

*Additional baggage allowance available upon inquiry
*Travel Insurance available upon inquiry
Accommodation: Tobago Plantations Estate – Tobago Plantations
Situated in the Tobago Plantations Estate, adjacent to the luxurious Tobago Plantations PGA-designed golf course, this sumptuous 4 Star resort offers a fantastic island getaway complete with golfing, nature trails through the virgin mangrove forest, and breath-taking ocean views. The resort offers a wide range of onsite leisure facilities, including floodlit tennis courts, a spa and fitness center a PADI dive center with training school, and complimentary bicycle rentals. The stylish rooms are decorated with vibrant, tropical colours and dark wood furnishings, all featuring high definition flat-screen televisions, plush beds with deluxe cotton linens, and spacious marble bathrooms as well as complimentary wireless internet access. Scarborough is just 10 minutes away by car, and Pigeon Point beach is only 15 minutes from the hotel.
What's included
Airport Transfer

Breakfast
Price Per Person:
Option 1 £1330.00 (Based upon two sharing)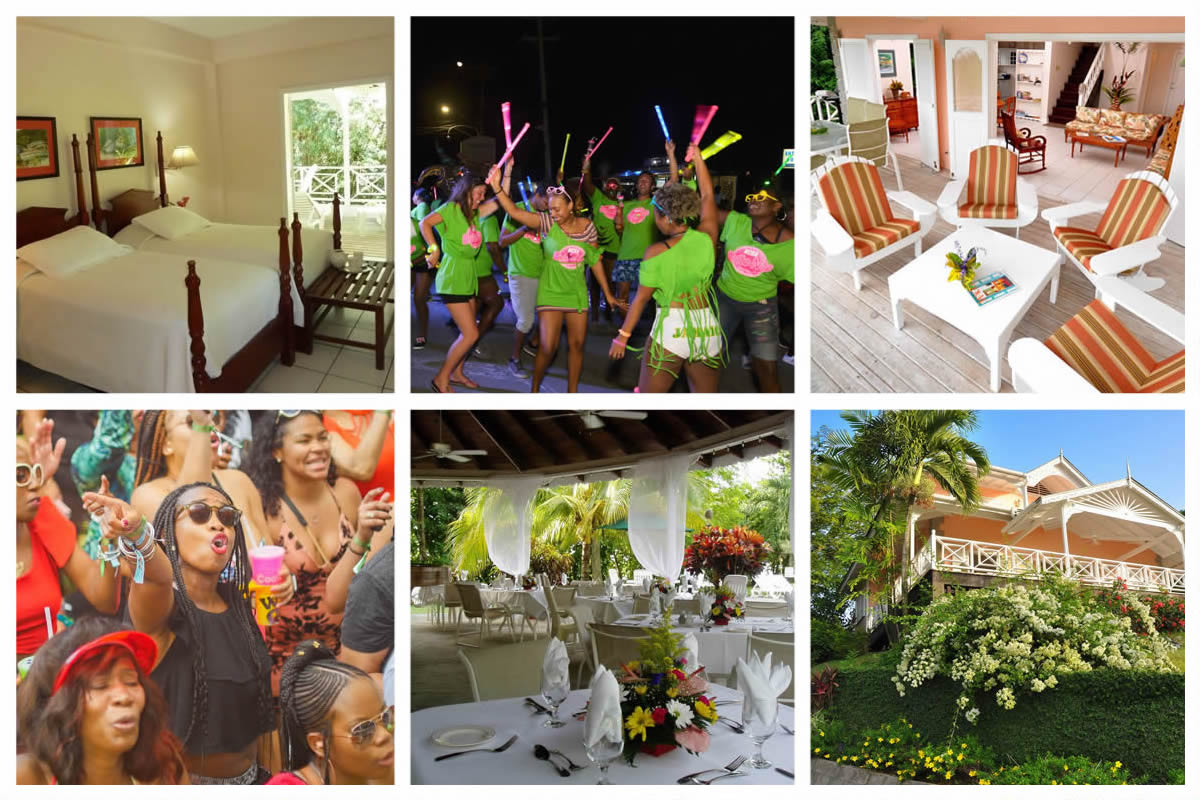 Want to join us? Register your interest by completing our form here