Destination: Antigua

Cost Per Person: Based on 2 sharing: £1709.00
Travel Dates: 31/07/2019 - 10/08/2019
Board Type: All Inclusive
What's Included: Airport Transfers, Island Tour  
Holiday Description
Visit the Island of Antigua at the beginning of August during the pinnacle of their Carnival, whilst staying at a 4-star beachfront Adult Hotel. A Flight from Gatwick airport will transport you to an island that has as many beaches as there are days in the year. An Island Tour will familiarise yourself with Antigua whilst the local events and parade will keep you entertained and engaged in the Celebration of Antigua's culture and independence.
Carnival Description
The Antiguan Carnival lasts approximately two weeks, it begins with an Opening Parade and is packed full of National Events and parties throughout the Festival period. 
Several Parades also take place over the Festival Season including T-Shirt Mas, Childrens Mas, Jouvert Morning, and the final two days Carnival Monday and Carnival Tuesday which is the final day of Carnival, commonly called Pretty Mas when people don their elaborate costumes and party during the day. 
Following the Carnival Parade, the party carries on at an event called Last Lap which is the final official gathering of the Carnival. 
Antiguans party hard and this is reflected in their Music, expect to expend a lot of energy at the Festival. 
Flight Details 
Airport: London Gatwick 

Departure/Arrival Date: 31/07/2019 - 10/08/2019 (10 days)
Baggage Allowance: 1 checked item @23kgs

*Additional baggage allowance available upon inquiry
*Travel Insurance available upon inquiry
Accommodation: Hawksbill - Rodney Bay Village
This beautiful 4 Star resort has four secluded beaches to offer its guests, including, for budding naturists, the only clothing optional beach in the whole of Antigua. If you're a beach lover and you can't wait to get soaking up the Caribbean sun, then you'll be a big fan of this Antigua hotel. This adults-only is located by the beach at Five Island village in Antigua Island, 8 km from a ferry station, 8.5 km from St. John's center and 15 km from V. C. Bird International Airport.
The All-Inclusive concept includes all meals (breakfast, lunch, dinner, and snacks) and mealtime drinks such as soft drinks, beer, wine, water and alcoholic drinks, all of the local brands. Drinks are served from morning until late evening (approx until 22.-24.00 hrs). All a la carte meals, snacks, non-house brand wines and spirits, bottled water and floodlit tennis are excluded and must be paid for locally. No credit or reduction in price is offered on drinks. All other extras charges must be paid for locally.
What's included
Airport Transfer

Breakfast

Island Tour
Price Per Person:
Option 1 £1709.00 (Based upon two sharing)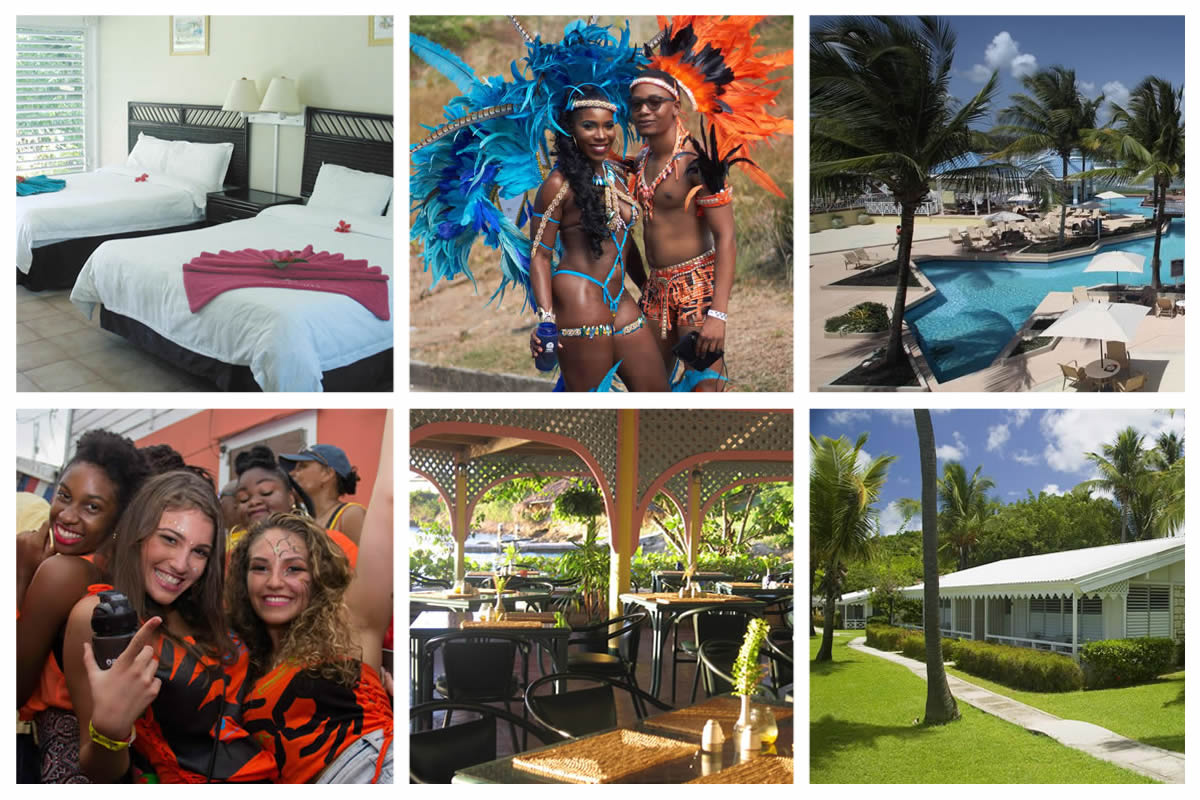 Want to join us? Register your interest by completing our form here